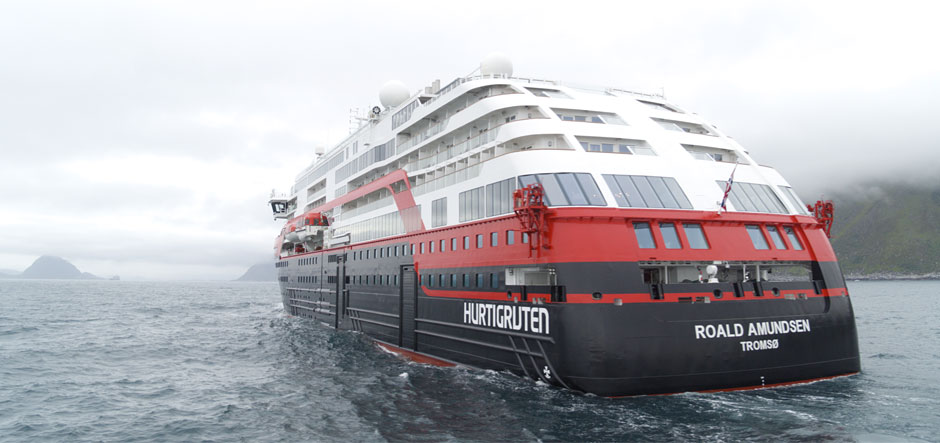 Hurtigruten is to make history this autumn when it hosts the first-ever ship christening ceremony in Antarctica for Roald Amundsen, the world's only hybrid-powered expedition cruise ship.
In honour of the ship's namesake – renowned polar explorer Roald Amundsen – Hurtigruten will recreate the ritual Amundsen invented when christening his own expedition ship Maud in 1917. Amundsen smashed a chunk of ice, rather than the traditional bottle of champagne, against Maud's hull saying: "It is not my intention to dishonour the glorious grape, but already now you shall get the taste of your real environment. For the ice you have been built, and in the ice, you shall stay most of your life, and in the ice, you shall solve your tasks."
Hurtigruten will soon choose a godmother to officially name the vessel and crush the ice on her bow.
"We can think of no better place to name the truly unique Roald Amundsen than the waters of Antarctica, where no ship has ever been christened before," said Daniel Skjeldam, Hurtigruten CEO. "With over 125 years of polar experience, Hurtigruten will use the first-ever ship naming ceremony in Antarctica to pay our respects to our oceans, the environment and past and present explorers."
Roald Amundsen, which made history this summer by being the first cruise ship in the world to sail solely on battery power, was built by Kleven in Norway and is purpose-built for providing expedition cruises in polar and environmentally sensitive regions. The ship's battery packs support low-emission engines, which will reduce carbon dioxide emissions by more than 20% compared to traditional cruise ships of the same size.
"This opens a new chapter in maritime history," said Skjeldam. "Roald Amundsen is the first cruise ship equipped with batteries, something deemed impossible just a few years back. With the introduction of Roald Amundsen, Hurtigruten sets a new standard not only for cruising, but for the entire shipping industry to follow."
Interiors reflect modern Scandinavian design and onboard highlights include the Amundsen Science Center, observation decks, an infinity pool, a panoramic sauna, a wellness centre, three restaurants, bars, an Explorer Lounge and aft-facing suites with private outdoor hot tubs.
Roald Amundsen will offer expedition cruises along the Norwegian coast to Svalbard and Greenland in her maiden season, before becoming the first hybrid-powered ship to traverse the Northwest Passage in a voyage that will follow the explorer Amundsen's original expedition route. The vessel will also sail itineraries along the west coast of North and South America in the 2019-2020 Antarctica season.
Take a virtual tour of Roald Amundsen
Share this story