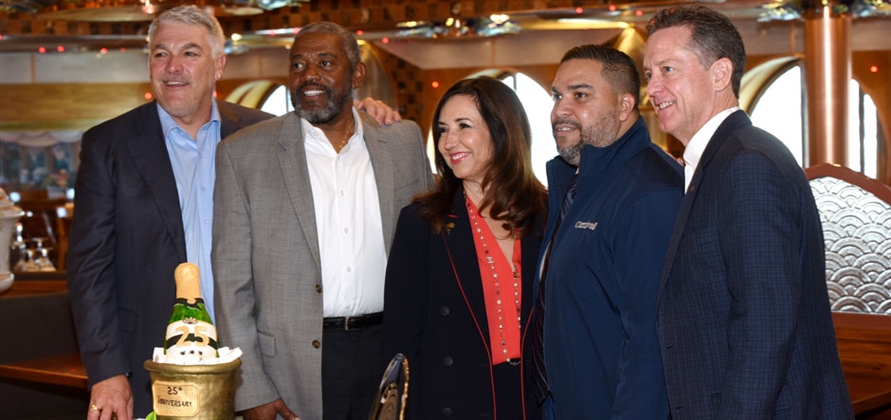 Carnival hosted a reception onboard Carnival Legend to mark the anniversary (Image: Carnival Cruise Line)
Carnival Cruise Line has celebrated its 25th anniversary of sailing from Port Tampa Bay in Florida, US.
Carnival first sailed from the port in 1994, with retired ship Tropicale offering seven-day voyages to around 28,000 guests a year. The cruise line now deploys two vessels from Tampa, carrying approximately 240,000 passengers a year.
To mark the anniversary, Carnival hosted a reception on Carnival Legend, where president Christine Duffy presented a commemorative plaque to Paul Anderson, president and CEO of Port Tampa Bay.
"Carnival Cruise Line is truly the pioneer of modern-day cruising throughout the world and from Port Tampa Bay," said Anderson. "We value the long-term partnership with Carnival and look forward to many more successful years working with the company."
Carnival Legend arrived in Tampa in October. The ship will operate a seasonal schedule of six-, seven- and eight-day cruises to destinations in the Western Caribbean, as well as a 13-day voyage from Tampa to New York from 3 to 16 May 2020. She joins Carnival Paradise, which underwent an extensive refurbishment last year.
Share this story